I just finished my first quilt. I have to say that i'm pretty disappointed.
I have had the top done and pinned to the batting and backing for quite a while now. But after that, the unfinished quilt has pretty much just sat around doing nothing for a year or so. Here is the completed quilt, complete with cat who immediately sat on top of the quilt when I laid it on the floor to take a picture.
No, you're not seeing things. The quilt really is that distorted.
I KNOW what I did wrong. However, by the time I figured it out, it was way to late to fix it. Apparently, you have to tack the quilt together somehow to keep the layers from shifting. *rolls eyes* Initially, I just basted around the edges of the quilt, and then tried to FM quilt the top. For those of you who quilt, you can stop laughing at my ignorance now. Once I realized that the basting wasn't holding, I decided to just stitch around the edges of the quilt. Good idea, because that was extra fun ripping out those tiny stitches later.
So, in a moment of clarity, I decided to pull out all those stitches and just free-motion quilt the top with NO basting whatsoever! YAY!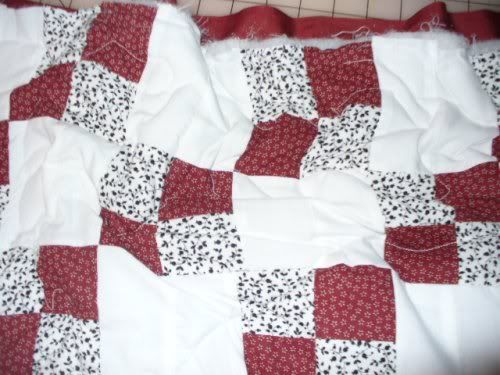 See all that puckering? Yep, that's what happens when you don't tack the quilt layers together. At this point I was just getting really pissed and just wanted this thing to be done. So I FMQed pretty much just around the edges and slapped a binding on it, and not it's done. I think I can just toss it on a wooden rocking chair I have hiding in another room, and no one but me will know the difference.
I might try quilting again, and if I do, I will certainly know to handle things differently when it comes to the quilting part.
On a side note: Yes, I realize that I left "quilting' off as an option in the poll. I'm sorry. Thanks to all one of you who pointed that out! lol So, for anyone who is reading this, if there was a 'quilting' option in the poll, it would have at least one vote! :)