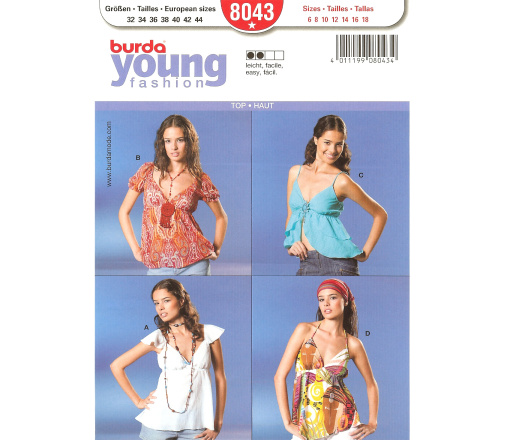 As some of you may already know, i'm pregnant. And becuase I have added a whole HALF cup size to my boobs, i'm all ready to show the still-tiny little things off to the public with low cut tops. Wee!
This weeks experiment is
Burda 8043
. My plan was to make a muslin, just to see how it fit. And then lenghten the pattern into a dress. Heh! Clearly I did something wrong because the back panel was so loose that I was calling it my 'baby sling'. It was just hanging there, and there was no way for me to fix it. Bummer. I think I made the mistake of using an interlock though when the pattern calls for a woven (I think, the pattern envelope is not really clear). So, can you believe I went and did the right thing? Yep, I went ahead and threw the wadder out! Right into the trash can. No second looks. No goodbyes. I don't think I have ever don't that before. How liberating!
I do have to admit though, this pattern was really easy, so I think i'm going to give it a second try in a woven and see what comes of it.