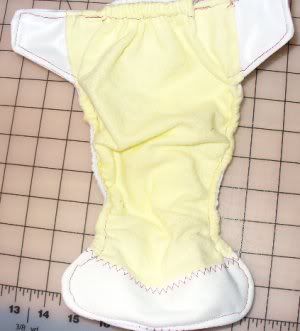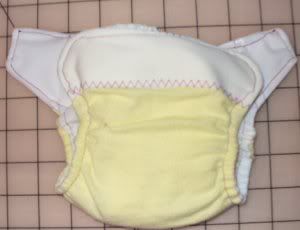 I am trying the pocket diaper from Jalie. I think this one needs a few adjustments though. I'm just not sure how to go about it. Here are the changes I plan to make.
1) First things first. I want to use snaps and not velcro. I didn't add any to this diaper because this one is a 'muslin'. I can't believe i'm making a muslin for a baby diaper when I don't even make a muslin for half of the things I make for me. lol
2) The outer layer is PUL and the inner layer is supposed to be some sort of wicking fabric. I just used flannel on this one just to get an idea, but i'll be using fleece for anything I plan to use as a real diaper.
3) The outer PUL layer. YUCK! I think i'm going to cut a cute fabric and use some basting spray to stick the two layers together. Then treat it as one layer nad have the PUL hidden inside. I just don't like PUL either, but it's necessary.
4) I need to add snaps to my soaker insert. I'm not quite sure how to go about this yet. But the pad that gets stuffed into the diaper is not going to stay in one place. Also, the soaker really needs to be thicker. As it is now, it's only 4 layers of flannel.
5) I wish I had a real baby to test on. All this could be for nothing because I don't even know how they fit.
I do like these AO2's though so far. Mostly because I don't like the stand alone PUL covers. I'm going to make a few more of these -- tweaking as I go, of course and see aht I can come up with. I'll keep you posted.