My friend Lynn and I decided we were going to take a little fabric road trip. What a fun day! Our agenda was to drive from the Detroit area to
Vogue Fabrics
in Evanston, IL and then drive home. Well, even with the ungodly amount of sitting we did in traffic on the Kennedy expressway in Chicago, we still had time for a stop at
Field's Fabrics
in Kalamazoo!
First up, Vogue Fabrics in Evanston. Please don't throw tomatos, but I can't say that i'm all that impressed. Although, you would never know it from all the fabric I bought. I did get a few knit prints that you can't get from the local JoAnns, but other than that, it seemed like a lot of the same stuff. Although for WAY better prices on most things. Here are a few pics of my findings.
The top two pics are of the knits I got. The bottom one is of the 3 cuts of woven fabrics I got. One is a heavy weight WHITE denim. I can't wait to try out a pair of jeans.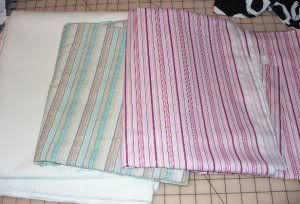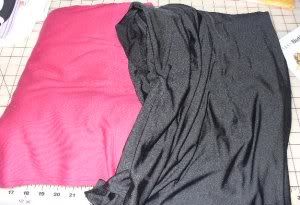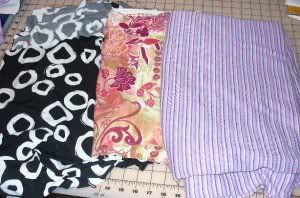 Our bonus stop was Field's fabrics in K-zoo. I was a lot more impresses with this place than I was with Vogue. The store is clean, the staff is friendly, the store is well stocked and almost everything was on sale! I told Lynn that I would like to make a trip every few months to this store. I think it's worth the drive.
By this point I was getting a bit tried, as I am 8 and a half months pregnant. But I still managed to pick up for cuts of fabric and four patterns! GO ME!
I got two knits for me, a bunny knit for DDs jammies (how cute!) and a cute eyelet that was on the 50% off clearance table.
At the end of the day the damage was just over 26 yards of fabric. Not bad when you consider that buying fabric was what I had set out to do! lol Oh, And I had to get hubby some fireworks from Indiana for our big 4th of July party. I hope he doesn't set the yard on fire...