I got my lot of vintage patterns from eBay a few days ago. I am so happy with what I got.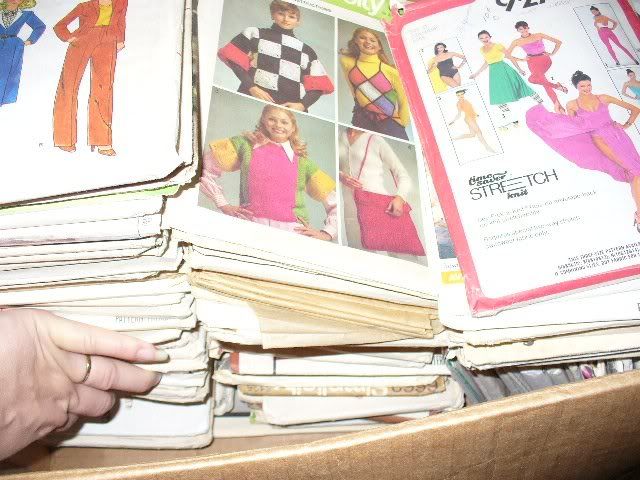 I never thought to take the picture while I had all the patterns out of the box! Duh! I can't believe some of the stuff that was in this lot. There are a few recent kids patterns, but most are 1975 and older. Here are the older ones. I haven't counted them all, but there are quite a few. And they are all mostly in got shape. A lot are still factory folded. And if that isn't good enough, most are in a size I can use! They are either 34 or 36 bust. I can't believe how I lucked out with this lot.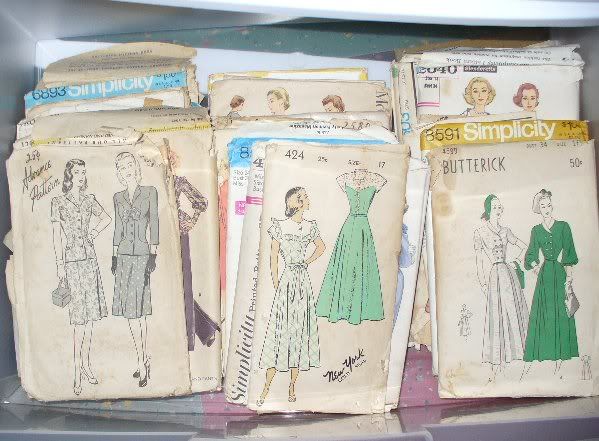 Here is a picture of the oldest ones.
They are mail order patterns that you ordered through the mail. They are not dated, and most don't even have an actual pattern company. But I do know that they are early 50's, and one is post marked 1952. I am thinking that the others are earlier because they don't have a dated post mark.
Here is a picture of my fav from the 70's! Simplicity 6925. I was looking at something really similar in the Victoria Secret catalogue. I couldn't find anything current really. But here it is, in my vintage lot! I can't wait to make this up. I'm going to change it to a dress though. I have the perfect purple gauze for it. Of course, I have to not be pregnant anymore, but I only have about 11 more weeks to go.
One question if anyone can answer. I want to sell some of these on eBay, or etsy or whatever. They smell really old. Is that common? Or can I air them out somehow? I don't want to put smelly patterns on eBay, but they are 60 year old patterns. Anyone know anything about this?