Here I am, 35 weeks and 3 days pregnant! I don't seem to be getting much bigger at this point, but things are getting more cramped!
The dress i'm wearing is
Simplicity 3503
. I love this dress. It's so easy to put together. And i'll tell you, I did not modify this for my preggo belly. I mostly made the maxi dress so that I would have something to wear after baby. Turns out it almost fits. The one thing though is that I added the pockets to the first version, and they look a little weird because they stretch around the belly. I don't care! lol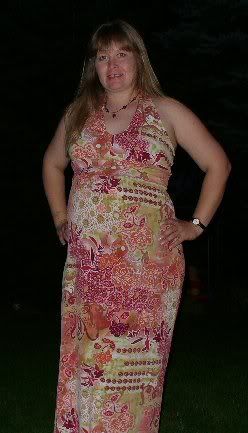 This is version two. I gotta tell you, it's impossible to look svelt in a picture when you're 9 months pregnant. Who knew? I can't say it enough, I just love this dress. This one doesn't have pockets, so it looks better than the first one too.
Happy 4th all!